Insta360 Pro 2 is one of its kind 360-degree VR cameras. It is Google Maps Street-View ready and comes with FlowState Stabilization. Other features include Farsight live monitoring, 8K 3D VR, CrystalView 8K Playback, and much more.
Here's our review to one of the best 360 VR Camera out there.
1. Farsight 360° Live Monitoring
Capture and control from afar by attaching your tablet, phone or laptop. The Pro 2's low-latency, long-range transmission system lets you be on-set even when you're not.
2. 8K VR 3D
Six lenses work together to create beautifully detailed 3D VR experiences. Your stories will be sharper and hold more depth than ever.
3. HDR Video + Photo
It helps you capture natural lighting smoothly, even when conditions vary in every direction.
4. 120Mbps-per-lens Bitrate
Your productions will be captured and played back in crisp detail thanks to fiercely fast transmission speed.
5. FlowState Stabilization
No bulky gear. No post-production hassle. Perfectly stable footage lets you tell your story with bold and dynamic camera movements.
6. CrystalView 8K Playback
Deliver what you really shot with 8K playback, even on entry-level headsets and phones. CrystalView allows to selectively render exactly what our audience is looking at, yielding a spectacularly clear image no matter where they look.
7. "No-Stitch" Editing in Adobe Premiere Pro
Less waiting. More creating. Seamless integration with Adobe Premiere Pro lets you start your edit before you spend time in second stitching.
8. Spherical Audio
Four built-in microphones capture full-sphere ambisonic audio. Audience will be immersed in a realistic audio experience. Alternatively, you can mount your own industry favored 360 audio devices to get the exact sound you need.
Lenses: 200° 6 x F2.4 fisheye lenses
Storage: 6 MicroSD Card + 1 SD Card (Purchased Separately)
Bit rate per Lens: Up to 120Mbps
White Balance: Auto, Manual
Working Temperature: 0-40℃
Antennae: GPS signal antenna + WiFi signal antenna
GyroScope: 9-axis gyro
Image Stabilization: FlowState stabilization
Stitching: Optical Flow / Template
Video Transmission: Insta360 Farsight provides a ground-to-ground range of up to 300 meters, with 30 FPS preview.
Photo Format: JPEG / DNG
Video Format: MP4
Product information Pro 2 (Standard)
Brand Name:    Insta360
Item Weight:    3.42 pounds
Package Dimensions:  20 x 18 x 9 inches
Batteries:  1 Lithium Polymer batteries required. 
Special Features:  Panorama, 3D, VR, 8K
It shoots 8K 360 videos and that's just the beginning.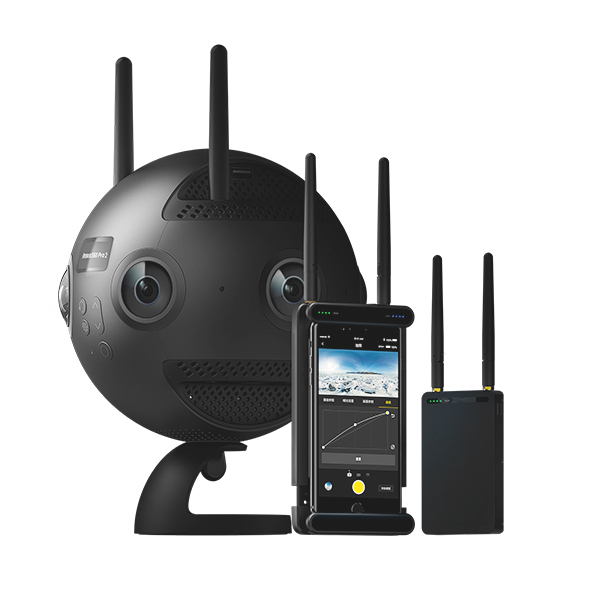 The Pro2 was presented as being "better from each point" and, with that comes redesigns like three-crease increment in video recording bitrate from 40 – 120 Mbps, consideration of a 9-Axis gyrator and "FlowState" picture adjustment, long-ago remote see and camera control, and a progressively streamlined after creation work process intended to eliminate time spent wrangling and stitching film that might possibly cause it into your last to alter.
In addition to the "FarSight" control & monitoring solution, the Pro 2 also boasted an increase in recording resolution and bit-depth and improved post-production workflow.
After having used this camera for about a month on the ground and in the air, I can say that this camera's most exciting improvements are the ones that revolve around making it faster & easier (i.e. cheaper) for you to create high-quality 360-degree media.
Wireless preview & control is obviously there, but there are other lot of time-saving features that really help to speed production and make it easier to create and turn around high-quality immersive video.
For anyone who has spent tons of time and storage space transferring and housing captured footage, I think you'll agree that these workflow improvements are really exciting and are the really big news of this release.  
Higher Quality Video
The Insta360 Pro2 has maximum video formats, resolutions, & frame rates of 8K Stereoscopic at 30fps and 8k Monoscopic at 60fps. The Insta360 Pro2 has slots for 1 SD card which holds stitched files plus 6 Micro SD cards (one Micro SD card for each lens) that allow the Insta360Pro2 to capture 360 video footage at up to 120 Mbps, a 3X improvement over its predecessor. All of this translates into footage that is markedly improved. 
Stability 
It comes equipped with an internal 9-axis gyroscope and FlowState image stabilization which means that a user no longer have to spend time and effort stabilizing the footage. It all happens seamlessly in the background. For anyone who has been looking for the most efficient way to capture high quality and stable 360 content from a drone (like me), this is a very welcomed feature.
Of course, it's not just drone shooting where stabilization is critical, and so having a built-in stabilizer that negates the need to buy, set-up, carry, and provide power to an external gimbal is a huge production value-add for all sorts of shooting scenarios.
Edit-First, Stitch Second Workflow
With this camera, Insta360 has re-designed 360 workflow to allow to craft edit upfront and stitch your footage later. It's a significant reimagining of 360 post-production because the alternative means having to invest time and storage space to import and stitch footage that may just end up on the cutting room floor.
With its Adobe Premiere extension, it allows to go from camera to editing timeline (literally), make your edit decisions, add transitions, color-correct, and then export your footage. On export, the footage in your timeline is stitched in the background in a way that doesn't require any additional input.

It does this by automatically creating a fully stitched low-res proxy file in-camera while shooting and then automatically assigning and enabling that proxy file (again all in the background) when you use the new Insta360 Importer extension for Premiere Pro. 
Pros of Insta360 Pro 2
Ultra High-resolution media capture in mono or stereoscopic.

Streamlined Adobe Premiere workflow saving time and drive space.

9-Axis Gyro & FlowState negate the need for a gimbal which reduces the cost of ownership, deployment time, and time spent in post removing the gimbal

Stabilized footage directly out of the camera

FarSight remote camera control & preview makes it easy to shoot and keep your crew out of sight. It also allows for more efficient operation from drones. 

Lightweight & portable.

Internal Ambisonic microphone provides an immersive audio track that can be used to sync with an external mic recording in post

Top-Mounted 1/4″ 20 thread for attaching an external microphone to the camera.
Cons of Insta360 Pro 2
Streamlined edit-first, stitch-later workflow only supported in Adobe Premiere Pro

Small sensors don't have much dynamic range of M 4/3 and larger sensors 

The lenses are bare and unprotected so any fall could damage it badly

No way (yet) to add ND filters to the lenses

Though the fan can be programmed to turn off for up to 15 minutes while recording video, you'll need to plan ahead for sequences lasting longer than 15 minutes where audio is critical

Internal microphone's quality isn't that great and you'll need an external, high-quality professional microphone to capture quality sound.
Final Verdict on Insta360 Pro 2
The Insta360 Pro2 gets plenty of things right. Most importantly, Insta360 has truly investigated the creative work process for the 360-degree camera and has made incredible steps at unraveling them for the present pain points.
Stabilization, remote checking and camera control, and unwieldy work processes have introduced noteworthy difficulties to movie producers, and with its Pro2, Insta360 truly attempts to improve that procedure and get more individuals making top-notch content rapidly.
The Pro2 truly works admirably of escaping the way and allowing you to shoot, at that point alter without getting buried in stitching and stabilization and without spending a huge amount of money on drives to top off stitching every frame of footage to combine that down to a couple of moments of conclusive film later.
The video and photograph quality is actually quite acceptable. 8K goals truly enable you to capture and protect to detail that gets lost at lower goals and by permitting every focal point to capture the video at up to 120Mbps, you get a lot better final product than you will out of any dual-lens camera.
Would you be able to show signs of improvement, 8K film by utilizing Micro 4/3 or Super 35mm sensors? Completely, yet those camera rigs will exponentially increase cost but will reduce workflow time by huge margins.
Buy the Insta360 Pro 2 from their own website here! 
Buy the Insta360 Pro 2 from Amazon India here! 
Also Read: Insta360 ONE R-Best Alternate Action Camera to GoPro in 2020
Home| Blog | About Us | Instagram |Work With Us | Store